City Of Bones


Michael Connelly
Orion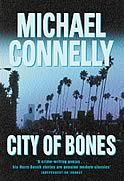 I won't deny it, not even for a second: I view Michael Connelly as the greatest crime writer of our generation. In Harry Bosch he has created the most believable cop character since Steve Carrella (do your own research heathens), and the closer he scrapes to the edge, the more we like it.
City Of Bones comes after far too long a break, and for Bosch, nothing has changed; everything is still as shit as it always was. City Of Bones puts us on the trail of a dead boy buried in the mountains many moons ago. Unable to leave a dead case alone, Harry moves heaven and earth to identify the body and then a little more heaven and earth to find the murderer.
For those who have lived with Bosch from The Black Echo through all nine novels, what's really fulfilling about City Of Bones is that the supporting cast develop - or die - along with him.
Without giving too much away, Bosch is plagued by the twin crushing blows of butchery and bureaucracy. Friends fall in the line of fire, everyone is betrayed in a fashion - even by Bosch himself - but throughout, Connelly still keeps a flame of hope alive. The dust jacket hints at: ". . . an ending that will keep Bosch fans eager for the next." For once, they're right. They should publish these damn things as twin packs.
Connelly fans will not be disappointed with Bones, although new readers could do with jumping back a couple of novels before embarking - there is a lot of background material that has history to it.
And hey! Don't even think of waiting for the paperback. Food is something you buy when you have enough books to get through the month.
:: Sion Smith