Lazybones


Mark Billingham
Time Warner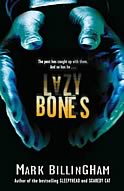 Billingham is the best crime writer in this country at the moment - yes, even better than Rankin. His gritty trilogy of novels featuring Tom Thorne are amongst the fastest paced, beautifully plotted books you can find on the shelves. I like this guy a lot - he rocks! Which is odd because there's nothing intrinsically new about Tom Thorne. It's more like a welcome return to the traditional down-trodden bastard London cop. Jack Regan for want of a better comparison. The supporting cast is equally solid, and there's been a myriad of sub-plots going on since day one - with each trailing off in its own direction ever since.
In this third instalment, a 'woman' is writing to convicted rapists, earning their trust and upon their release, violently taking care of them on their first meeting. Thorne finds himself both in love and at a loss as to how to start linking this case with a 25 year old murder that was only witnessed by two children - who have both since vanished off the face of the earth. It's not easy to catch a killer when you don't care about the victims.
Although it's probably not the case, Billingham - also a stand up comic - makes this look easy. With a writing style that's almost 'off the cuff', Tom Thorne will soon be going head to head with Rebus for the gold. Head on out and swallow both Scaredy Cat and Sleepyhead before Lazybones hits the shelves in July.
:: Sion Smith