Mandrake


Paul Eddy
Headline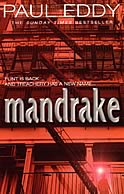 I've just been reading how Paul Eddy received an advance of £1.2 million for the novel Flint - the precursor to Mandrake. That's a mighty sum. Particularly in the light of how, in the same article, it detailed how J K Rowling was advanced a comparatively measly £2,500 for the first Harry Potter novel. Still, Rowling was a complete unknown and Eddy worked for The Times. Now you tell me it's not who you know . . .
So was the character of Grace Flint really worth that much money? For once, the answer is yes. A timely and refreshing take on the crime novel, Flint travels well, and unlike 'captive' cops like Rebus, Bosch and Parker - whose domain tends to be their 'patch' - Flint jets through the global underworld with ease.
If I may be so bold, Eddy has released on the world a new Bond . . . not so glamorous, not so suave but blisteringly hard, gritty and so utterly believable that it won't be long before Flint hits the big screen - and for that, someone had better find a damn good casting agent.
Back to Mandrake: In this international tale of money laundering and espionage, a sting goes fatally awry, leaving Grace Flint to piece together the leak that sees her protégée not make it any further than the opening chapter. Not sure who to trust, Flint spins her own web to catch the mole, only to find her web is full of holes and there are far too many flies to catch.
It takes a real literary juggler to keep these characters going, and the ease with which they interact with each other without upsetting the flow is not something you see too often.
A fantastic follow-up to a dazzling debut; Mandrake really motors, pulling in every twist and turn in the book. With the publishers offering the hardback at a cool £10 - with a guaranteed money back if you don't like it - you can hardly go wrong . . . but don't come near it without having read Flint first.
:: Sion Smith