The Gretsch Book - A Complete
History Of Gretsch Electric Guitars
Tony Bacon and Paul Day
Backbeat Books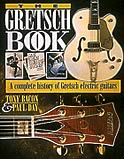 Way back in the annals of the last millennium (about three years ago), when I got my heart broken by rock for the last time, I used to play a Gretsch Rally '68.
The other guys in the band were Les Paul aficionados, which was a good thing - the majority of guitarists these days are Fender kids and I never really rated the old stick as a contender - it's a girls' guitar . . . but the Gibson - in all its variants - looks and sounds great. Sling it low and you're halfway to being a star already, no matter how badly you play.
But I had my Gretsch Rally - which I rather foolishly sanded down and resprayed white - and despite its rather unimpressive name, it was bigger, badder and way cooler than anything anyone else in the band had. Drop one of these over your shoulder and you know you're a guitarist - shove it through some rack equipment and everyone else will know it too. I loved that Rally with its half moon cutouts. It eventually met its death when I left it on the roof of my car just before going home from rehearsals . . .
But I digress . . . The Gretsch Book charts the phenomenal history of the Gretsch from its conception in the 30s to present day. If you're really into guitars, this is a fine book. Top quality photography and reproduced adverts and brochures form the basis around which the commentary is based, and it's as much a coffee table book as it is an encyclopedia of one of the most inventive, distinctive and sometimes badly misdirected guitar manufacturers of the last 100 years.
Despite huge success off the back of Gretsch 'pushers' like George Harrison, The Monkees, Duane Eddy and Chet Atkins, nobody really seems to have grasped the fact that the Gretsch looks and sounds like an out and out motherfucker. Brian Setzer is perhaps the last 'name' to really take it to the max, but he's hardly high profile these days, which is a shame. Brian is one of the true originals and he wields a Gretsch like a gun . . . did anybody check out the recent live shows?
The cream of the Gretsch crop is undoubtedly the White Falcon and the book does a great job of showing off just what you're missing if you've never thought of the company as a player in the market before.
Unfortunately, although seemingly always full of a million great ideas, Gretsch mistakenly liked to follow where Gibson led, only ever occasionally delivering the goods off their own back - but when they did . . . oh brother!
:: Sion Smith