The Namesake


Jhumpa Lahiri
Houghton Mifflin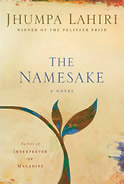 How does a writer follow up a Pulitzer Prize winning debut? Jhumpa Lahiri, who at the age of 32 was awarded the coveted literary prize for her masterful story collection, Interpreter of Maladies, once again marvels readers with smooth and elegant prose in her novel, The Namesake.
The Namesake is the story of the Ganguli family; Bengali immigrant parents and their American-born children. Ashima and Ashoke Ganguli, who were united through an arranged marriage, have difficulty assimilating to American customs and culture, while their children cannot entirely relate to their Indian heritage.
The story begins when Ashima gives birth to their firstborn, a son, during the summer of 1968 in Cambridge, Massachusetts. Unaware of hospital policy, the Gangulis must come up with a name for their baby before being released from the hospital. In their culture, an infant grows into a name, which is decided upon by a grandparent or another respected senior in the family; in this case, Ashima's elderly and ailing grandmother in Calcutta. They decide on a temporary name, Gogol. This nickname - neither Indian nor American, but Russian - is the name of a writer who had an enormous impact on Ashoke pursuing a career and a new life in America. As time goes on, the nickname sticks, the letter from Ashima's grandmother never arrives, and Gogol is fated with this peculiar name.
We follow our main character, Gogol Ganguli, through his school years, his adult relationships with women, his marriage, and his rejection and eventual acceptance of his tradition-soaked family. When he becomes 18 and is entering college, he legally changes his name. Will changing his name transform him into someone else; will it change where he came from and where he's headed? Gogol's struggle with his identity drives this novel and makes him a symbol for those who may not feel entirely American, but are still unable to make a true connection with their heritage.
Jhumpa Lahiri, an Indian-American, clearly illustrates what it is to live an entire life in America, but still feel a bit out of place at times. Her stunning images of the elaborate feasts, the traditional clothing, and the ceremonial rites of the Indian culture make The Namesake a very rewarding and worthwhile reading experience.
:: Adela Brito