The Stones 65-67


Gered Mankowitz
Vision On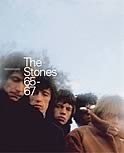 Know thy background: Vision On are a publishing company whose subject is more often than not the photographer rather than the target. Where this works best is when the target is worth the effort.
The best examples of this are Showtime (reviewed elsewhere) and this excellent collection of Rolling Stones shots from 1965 thru 1967. Mankowitz first began shooting the Stones at the tender age of 18 - during this period he was their unofficial official photographer . . . and a good job he did too.
Skimming through, the book appears to be nothing more than a collection of black and whites. It's not until closer inspection that you come to realise just how bloody dark and moody the Stones were even when they were relaxing.
It's this realisation that brings the clarity; the Stones weren't just a great a great band - like all the greats they weren't in fact even that - they were is a chemical reaction. A very stylish chemical reaction, but one nonetheless.
Then you come to a stop at a couple of colour shots of Brian Jones and that really says it all about this period in time - five guys who were too fast for love turned into four guys who slowed down a bit and kind of stayed there and got older.
Looking at the Stones in their prime is a real treat. Mankowitz has done a fantastic job of capturing the uncapturable. Coffee tables were made for books like this.
:: Sion Smith