CKY Trilogy Round 1


Revolver Entertainment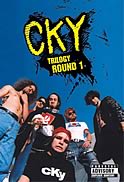 CKY Trilogy Round 1 is essentially the original CKY with a whole host of extras. As well as getting the first film, viewers are treated to a bunch of bonus footage and extra stunts, as well as a documentary about the making of the film. As you would expect, CKY is a frenzied cross between stupid stunts and pranks, and skateboarding. Initially, when CKY was launched, the priority of the homemade film was to launch Bam Margera's skating career, which it did rather well.
It may not look like the DVD is packed with much when first looking at the menu - there are two options being 'CKY' and 'CKY Documentary' - but on top of this there is a section of bonus footage as well as a complete stunt index for both parts of the DVD. This is one advantage of the DVD version; how annoying is it when you want to show your mates the funniest bit and it happens to be three quarters of the way through the tape?
The actual film itself is quite hit or miss on first view; there are some truly comic pranks/stunts and some that are sadly not very funny at all. Fortunately there are a few more good ones than bad; such as Brandon DiCamillo throwing his drink through the collection window at a fast food drive thru after as he screams, "Fire in the hole!" But with the slightly less funny stunts you have to bear in mind that this is not Jackass, it's a skate film with some stunts. Saying this, some of the material on this CKY Trilogy Volume 1 has been featured on Jackass itself; remember Brandon's hilarious impersonation routine?
One of the weaker aspects of the film is the soundtrack: It's good that Bam's brother's band CKY provide the soundtrack as it adds to the homemade quality, but the songs are repetitive and will eventually get on your nerves as you find yourself wishing for a bit of variety.
The documentary section of the DVD is a welcome extra. Various stars of the show talk about how stunts were made and their favourite skits from CKY, with some added laughs. There is also extra footage in this part due to some of the stunts described not being in the original CKY, such as Ryan Dunn playing the part of crime-fighting hero Cap'n Undies.
All in all it's a barrel of laughs, although admittedly the barrel has a few holes in it. But there is enough bonus footage and extra material to keep any prank-loving Bam fan happy.