CKY4 - The Latest & Greatest


Revolver Entertainment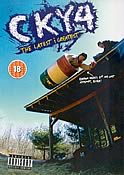 CKY4 - The Latest & Greatest once again showcases the varied talents of the West Chester skate crew, who found mainstream recognition after the runaway success of MTV's Jackass. Much more - and often less - than simply skateboarding DVDs, the CKY series mixes the kind of stunts that Bam Margera, Ryan Dunn et al brought to Jackass, with bizarre sketches helmed in the main by Brandon DiCamillo and Raab Himself. It's comedy kids, but unless you've been lucky enough to catch previous CKY outings, not as you know it.
As its name suggests, CKY4 is a bunch of new segments mixed in with mostly re-edited versions of sketches from the previous three DVDs. Extended versions of familiar attacks on Bam's dad Phil Margera are most welcome; a sink plunger, a paintball gun and a meticulous lawnmower booby trap are all used to make him wish he'd never been born . . . or at least that Bam had never been born.
Raab Himself relieving himself on an electric fence is another highlight - Bam asking a near a near foetal Raab, "Would you ever do it again?" elicits the moaned response, "No, fuck that!" Raab's back soon enough taking a shit out of a moving van. It ain't Scorcese but it's damn funny.
Whilst the new scenes aren't the best Margera and the CKY crew has ever offered up, the bonus footage more than makes up for it: Raab's anguished and disturbing search for Key Key the cat, some more Fat Fuck footage (as featured in Jackass: The Movie) and of course a whole load of shopping carts.
If you already own the previous CKY outings, there's enough new stuff here to warrant adding CKY4 to your collection. If you don't, the mix of old and new material makes CKY4 - The Latest & Greatest an ideal introduction to this bunch of counter culture heroes. Go buy.