Jackass: The Movie


Paramount Home Entertainment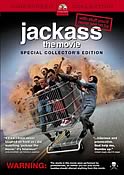 Now Jackass is officially over, what better way to relive the final charade in the form of a special collector's edition DVD of the movie? If like me you're a bit wary of limted or special editions, the Jackass DVD is a real pleaser. While just a single disc, Jackass: The Movie features an extra five hours worth of bonus footage; including music videos, commentaries, a 'making of', galleries and 32% more stunts.
Wee Man dressed up as a six foot penis as he dives into an equally big replica of the female genitalia was obviously too risky to put in the film, while Bam Margera mistiming a jump over a stack of oranges in the supermarket was just not amusing enough. The mousetrap style stunt planned for the end of the film is featured in the extras even though it is hideously flawed.
Go back to the menu and read the cast and crew bios for details on all the guys; did you know Preston used to be a trucker? The highlight of the this section has to be Rake Yohn's and is bound to delight CKY lovers. Where everyone else gets a page and a half of writing to their credit, Rake gets three words: "Rake hates mustard."
Piano-playing rocker Andrew WK's video for We Want Fun sees the West Chester boys doing what they do best; skating and hurting themselves, while Roger Alan Wade's If You're Gonna Be Dumb has them sitting on a sofa cheerily singing along.
The DVD also features the promo spots that were shown overseas to promote the film before it was released. This amusing pre-release feature is not only funny, but also gives an interesting insight into how Jackass: The Movie was marketed in America.
But to be honest, all these extras pale into insignificance when you can watch grown men are doing silly things. Make sure you watch the film with the commentary from the boys; half the time the conversation is irrelevant but some secrets are spilled: "Those bricks were actually made of sponge!"
It's the perfect way for the legend that is Jackass to be remembered, and the perfect mix of masochism and stupidity, all in a glossy box.