Skid Row: Under The Skin
- The Making Of Thickskin
Black Hill Pictures / Liberty International
Entertainment / Direct Video Distribution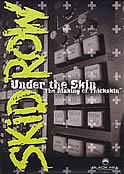 Eight years after the underperforming Subhuman Race, Thickskin sees the unheralded studio return of the once mighty Skid Row; a band whose 1991 album Slave To The Grind topped the US chart . . . a mere two months before the release of Nirvana's Nevermind, Pearl Jam's Ten and Soundgarden's Badmotorfinger.
Now, Skid Row's motor mouth frontman Sebastian Bach embodied everything The Darkness' Justin Hawkins aspires to be, so their return couldn't be better timed . . . except that Skid Row parted ways with Bach back in '99, followed more recently by drummer Rob Affuso. So the Skid Row of 2003 is made up of guitarists Dave 'The Snake' Sabo and Scotti Hill, bass monster Rachel Bolan, ex-Saigon Kick drummer Phil Varone and Bach's replacement Johnny Solinger.
Regardless of the merits of the music, without Seb on-board Skid Row's capital is at an all-time low. As such, Thickskin has been released on their own label, and they've spent the summer opening for Vince Neil and Poison.
The companion piece for Thickskin is Skid Row: Under The Skin; a rockumentary covering 2000's Kiss support tour and the making of the album - although if you blink you might miss the scenes from the former. So what we've got is a lot of home movie rehearsal footage, some song segments from an unnamed shed show and interviews with band members who never even allude to the existence of one Sebastian Bach.
Despite the eleven song tracklisting on this DVD, the only ones that make full distance are Thick Is The Skin, One Light and the live oldie Piece Of Me. Some clips last mere seconds. The new songs actually sound very good; Solinger can pull off a decent Bach impression on the more traditional numbers, and contemporary-sounding tracks like Swallow Me end up in similar territory to Saliva or Nickelback. This is no bad thing.
The DVD extras are throwaway - a guitar solo here, a drum track there - and add little to its value. The impossible to remove German subtitles - while adding a certain surreal element to Solinger's drunken enchilada cookery course - smack of amateurish production, and the sound level is a lot lower than on the main feature.
Skid Row: Under The Skin promises a lot and under-delivers. For a buzz band this wouldn't necessarily be a problem. What bothers me is that Skid Row failed to come to a deal with a label like Spitfire or Perris - both of who are very good at marketing niche classic rock acts - suggesting that there isn't much of a market for them even in America. And this release is only going to be of interest to those who would consider buying the CD it documents. At the time of writing, Thickskin is only available on import in the UK, so exactly who is Skid Row: Under The Skin meant to appeal too?