Murderdolls : Wednesday 13


Your people will wear cardigans, and drink highballs . . .
Jump to page:
You've got to admire tenacity. Frankenstein Drag Queens From Planet 13 were on the ropes and frontman Wednesday 13 was looking at a future in a dead-end town with no way out. Instead of quitting, Wednesday tooks advantage of a chance meeting with Slipknot drummer Joey Jordison. A meeting of minds occured, which resulted in the two hooking up in the band that eventually became Murderdolls; a band that takes the schlock horror imagery of The Misfits and mixes it with the larger-than-life rock theatrics of Kiss and Mötley Crüe. As Wednesday says; "Rock 'n' roll in my opinion is meant to be dumb and fun and stupid as fuck." As a manifesto, it's flawless . . .
counterculture: I've heard Murderdolls described as 'theatrical novelty monster rock'. D'ya think that's accurate?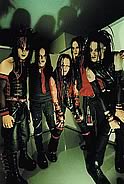 Wednesday 13: It's a weird thing, because all our influences are on the same page. Y'know we all idolise like Kiss, Alice Cooper and Twisted Sister, and early Mötley Crüe - the Shout At The Devil era - that's the stuff that really got us wanting to play music. And then at the same time I went back and started discovering the Ramones, The Sex Pistols, The Damned and Hanoi Rocks - bands that had that punk edge.
Once I discovered all of of that I got into a lot of the 80s glam stuff and picked up bands like Vain, Pretty Boy Floyd and bands like that, y'know cause I was like 13 years old when those records came out. So anything with an image I would buy. And there was a lot of stuff round that period that sucked, and there was a lot of stuff that was really cool that I still actually own.
The only record that came out in the past 12 years that's had a big influence on me was the White Zombie La Sexorcisto record. To me when I heard that, I was like; alright, this is like Alice Cooper but metal. Y'know he had the same lyrical type thing. When you heard that record you could just picture what was going on. So I think that's what some of our heavier influences are. With a song like Dead In Hollywood, more the heavier type guitars - I always compare that to the early White Zombie stuff, so that was definitely a big record for me. Other than that, everything after that, there really hasn't been much to make me want to stand up and do the metal sign - give the horns!
Don't get me wrong; I like a lot of stuff. Like when I come home from this tour, I'll probably go home and listen to T-Rex for fuckin' two weeks! I love T-Rex, so y'know that's my chill-out music. Just go home, put Mystic Lady on repeat for two weeks and just chill out . . .
cc: You mentioned Mötley Crüe before. Have you read the Dirt autobiography?
W13: Like four times! Oh it was great, and so funny; cause after reading that I can see my band having a book just as fuckin' horrible as that ten year from now [laughs]. That's our bible! you walk in a hotel for the Murderdolls and there's not a bible in the draw, there's a copy of The Dirt!
cc: So do you all spend your evenings reading The Dirt, listening to Shout At The Devil and watching Dawn Of The Dead on TV?
W13: Honestly, on our bus we've been so busy doing press and stuff that we don't get to watch as much TV as I'd like. I can't bring my DVDs from home because there's a region restriction on the DVD players over here, so I can't bring my horror collection . . . which sucks. So we have to stop at truck stops, so like, 'Whoahh, there's a copy of Night Of The Living Dead!'
But we constantly listen to music. If you'd come in our dressing room yesterday we were playing the first W.A.S.P. record. Er, today you'll walk in and you'll hear Zodiac Mindwarp [laughs]. There's always a big musical selection cause we're always buying records, and I usually travel with a pretty big selection of CDs with me as well.