Tomahawk : Mike Patton


Bungle no more?
Jump to page:
It has been four long years since I last spoke to Mike Patton. At the time, his former band Faith No More had been broken up for a year, and his newly established record label Ipecac Recordings were about to unleash their debut release. That release also presented the world with the first recorded output from Mike Patton since Faith No More's demise - a supergroup he had formed called Fantômas. But that was only the beginning.
A few months later, the band that he started in high school, Mr Bungle, had released their long awaited third album California. It didn't end there. Not content with just sticking to one band and waiting a couple of years between releases, Patton had involved himself in a plethora of other projects and collaborations and guested on a number of albums from artists such as The Melvins, Tin Hat Trio and John Zorn.
Unsurprisingly, a lot has happened in Mike Patton's world since then. He was asked to audition for the lead singer role in INXS to replace Michael Hutchence, and more recently was asked to front a new group formed by Slash and other ex-Guns 'n' Roses members. However, both offers were politely declined. The man is just "too busy."
Recording wise, there was a second Fantomas album, a combined Fantômas-Melvins live album, a collaboration album that involved Dan The Automator and Jennifer Charles (Elysian Fields) that went under the guise of Lovage, a collaboration EP with The Dillinger Escape Plan, and another new supergroup that he had formed called Tomahawk (who released their rocking self-titled debut album in 2001).
Tomahawk features Patton on vocals, Duane Denison (Jesus Lizard) on guitar, Kevin Rutmanis (The Melvins, The Cows) on bass and John Stanier (Helmet, The Mark Of Cain) on drums. With their second album Mit Gas released this month, counterculture caught up with Mike Patton to chat about the busy year ahead.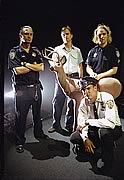 Starting with Tomahawk, I asked Mike to give us a brief rundown on the recording process for Mit Gas:
"It [the recording process] went well. We write over a period of months then trade tapes. Recording took a few weeks. The title is a favorite German expression we like to use. It has to do with drinking water."
And where do they write their lyrics?
"We all contributed lyrics. I write a lot of mine in the studio or the hotel. There is a lot of down time on the road. I don't spend too much energy on lyrics."
Speaking of lyrics, one of the album's standout tracks You Can't Win - a quirky track with an almost Mr Bungle flavour - features the line, "We are the police and now we're gonna start a riot." The police uniform has become a regular fixture at many of the band's live shows and fans will notice that all of their new promo photos feature the boys in uniform. I just had to ask about the police influence:
"Yeah the cop thing has been fun. Not sure what we are going to do next. It has been cool having cops give us things to add to the uniforms. The billy club comes in handy. It is mostly to amuse ourselves. It gives us power!"
Another one of the albums finest moments, an absolute cracker called When The Stars Begin To Fall could very easily have come off Faith No More's King For A Day, Fool For A Lifetime album and would have been an excellent choice for a single. A recent MTV report stated that there would be a video created for the awesome track, however Patton is quick to dismiss this:
"That is not true. We were and still are thinking of doing a video for Rape This Day but we don't want to spend much time or money on it and we don't want to be in it. Videos are mostly a waste for a band like us."
Even though Patton has been more prolific than ever in recent years, he hasn't released any singles or videos since Faith No More's demise.
He adds, "Videos cost money. We would rather use that money to make more records or pay bands big fat royalty checks or get hookers and steaks."
As I spoke to Patton, he was in the studio recording two new albums with his other supergroup, Fantômas. I asked him how they were progressing:
"They are coming along great. One should be out in September and one next year. It is more screwed up noise. One record is kind of mellow."
The band has already toured Australia twice to sold out shows and have built up quite an underground following. In fact, their last album The Director's Cut debuted in the top 20 on the Australian National ARIA Chart, which is quite an achievement for a band that have released no singles or videos and rely mostly on word of mouth.
And onto another project that he exclusively revealed the last time I spoke to him - Peeping Tom. Despite the fact that a note is yet to be recorded, this project has become one of Patton's most eagerly anticipated releases, with many seeing it as Patton's major label follow-up to Faith No More. The last time we spoke, he stated that "it should be a fun group with DJ, choir and other orchestral instruments", that it would be in the pop vein and that Dan The Automator would produce this monster. Then in 2001, six very catchy demos were leaked over the internet and were supposedly very early demos for Peeping Tom. However, according to Patton, Peeping Tom's sound will not resemble those.
He says, "No they won't sound like that. We leaked those demos to throw people off."
There was also a rumour that Limp Bizkit's Fred Durst was eager to sign Peeping Tom to his label and would do whatever it takes to achieve this.
Patton says, "I don't think Fred knows about Peeping Tom. Especially since it does not exist yet. But I hope he wants it!"
With a handful of other Patton projects due for release this year, and the subsequent touring, Peeping Tom's release still seems a while off.
He says, "I hope it is out by the end of 2004 but I've not started on it and have no idea who is going to be in it or anything."