Turbonegro : Rune Rebellion, Euroboy


Kiss your ass goodbye!
Jump to page:
cc: Gimme something on Scandinavian Leather, your first new studio album in five years.
RR: First of all, I'm really sure it's our best record. It's got all of those elements from our previous records, but it's just more mature, and a more concentrated form of Death Punk.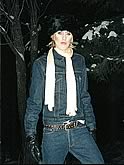 Euroboy: It's also the most focused and vital album we've ever done. I mean . . . what is the best album? That's a matter of taste. But I know that this album as a whole, it's a great band effort. The other albums have been a bit more . . . maybe separate, you know?
On Apocalypse Dudes, I just feel like halfway through the recording we kind of broke the code and came up with our own musical identity. We started writing these really cool songs like Don't Say Motherfucker, Rendezvous With Anus and Back To Dungaree High, and we came up with this really catchy and cool bubblegum-like Death Punk style. And on the new album that was our goal, to really expose that side of the band. We may lose a few of our fans of the old punk stuff because people only into punk are not always into what sounds . . . good, but they're more about something else. But we're probably going to get a lot of new fans as well.
cc: There are a lot of similarities between Scandinavian Leather and Apocalypse Dudes which makes sense considering how much better the band sounds overall . . .
E: It's important to remember that state of the art punk rock these days stays underground . . . it's genuine lo-fi all recorded live. We totally go against that. It's really well produced and a thoroughly made album. It means we might lose the hipsters but the music is still really good and it's an album that's going to last for years and years.
cc: What are Turbonegro like live?
E: I don't know, I've never seen myself like that and I don't like to watch videos of our shows. I can feel that there's this certain magic going on when we play. There's a lot of euphoria going on onstage, and then it makes sense to perform the songs.
cc: So why should people go see you guys?
E: Cause we're good.
RR: Cause we're beautiful [laughs].
E: We sound really good compared to a lot of new punk rock bands and we actually have a good heavy live sound now. Musically, it's good and visually, from what I've heard, we're fantastic. A guy came up to me last night - from the Moving Targets - and he's an older dude, and he said it was like watching The Dead Boys.
After our interview the band headed downtown for the second of two sold out New York shows. Luckily, the evening succeeded far better than the previous night that was cut short because of a ridiculous bottle-throwing incident that downed lead singer Hank Von Helvete. The band ripped through their many classics, alive and constantly in motion. Hank's stage presence is a combination of charismatic and creepy, adorned with a top hat, cane and diffuse evil black eye make up that adds a sinister Alice Cooper-like element to the freak show persona.
Considering their time away and the fact they receive little mainstream press, the results were pretty damned impressive. And the show was phenomenal. The band were dripping with as much attitude as Hank had belly over belt, and were as mechanically sound as any arena rock stud twenty years their senior. All in all, no one left disappointed; Hank got a rose from a cute female fan - didn't seem bothered by it - they did I Got Erection for an encore, Death Time for another, and for a memorable Monday night, darkness and denim reigned supreme.