Massive Attack


Brixton Academy, London : 17.4.2003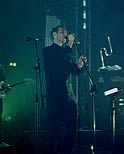 Having sold out five consecutive nights at Brixton Academy is no surprise for Massive Attack. Their last major tour was back in 1998 when the band produced their darkest album, Mezzanine. Since then the recent album 100th Window has managed to keep fans satisfied with its dark and haunting anthems.
The question on the public's mind however is how many of the band's part time vocalists such as Sinead O'Connor, Liz Fraser and Sara Jay will be present tonight?

As Massive Attack frontman Robert Del Naja steps on stage complete with a full live band, a huge dot matrix screen in the background lights up and becomes the backdrop for tonight's show, displaying a series of timetable schedules, messages and slogans based around personal surveillance.
Tonight's show is pulling mainly from Massive Attack's last two releases, beginning with 100th Window's grim but energetic opening track, Future Proof, which wakens the audience and prepares them for a mesmerising and intimate evening. The refreshing Everywhen follows, fronted by reggae legend Horace Andy, who's positive vibes permeate through the cheering audience. Providing vocals on the Liz Fraser sung Black Milk was supporting artist Dot Allison, who brought a fresh lease of life to the track, as well as later filling in for Sinead O'Connor on Special Cases.

The pace then picks up slightly with the eerie Butterfly Caught and Small Time Shot Away as Del Naja marches on the spot while performing. Also present is Daddy G, making brief appearances on the songs Mezzanine and Inertia Creeps. The show builds to intense climax of the groundbreaking Hymn Of The Big Wheel, Safe From Harm and the debut classic Unfinished Sympathy, all with Debbie Miller ably covering vocals.
Ending with the swirling and hypnotic Group Four, performed by Allison and Del Naja, Massive Attack prove that even with little crowd interaction, a performance from a group of versatile and unique performers is all that is essential.
Only tracks from Protection were completely passed over tonight, and they certainly weren't missed. Even without them there were plenty of atmospheric songs to make up the ultimate Massive Attack live experience.
:: Ben Lewis