Ms Dynamite


Brixton Academy, London : 26.4.2003
For Ms Dynamite, performing on stage while being heavily pregnant can be quite entertaining in its own right . . . especially when its her 22nd birthday. The last thing anyone would want to see is her exploding into labour, but then again that would be something to talk about.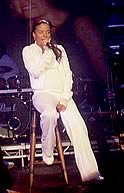 No stranger to live performance, this is actually Ms Dynamite's first full-scale concert after just recently performing at the Say No To War protest. Complete with a full live band, Dynamite starts off with the garage hit Booo. However this is just the opening as she continues with darker and moodier tracks Sick 'n' Tired, Put Him Out and Now U Want My Love.
What makes each song complete is the positive message placed within the lyrics. Ms Dynamite is clearly an ideal role model for today's generation. Not being afraid to voice her opinion on issues such as drugs and violence has helped her make an impact in the best way possible, and as a performer its clear that she has a lot to offer, even if it means having to cope with her unborn baby making the odd kick and having to take a few short breaks. During one break her younger brother even manages to fill in for her on stage, before performing together with her.
Ending the show with the breakthrough track It takes More and her own signature tune Dy-na-mi-tee, Ms Dynamite once again shows that she has established herself as a performer and also as a strong, independent female. Now it is only a matter of time before she returns.
:: Ben Lewis