Pink


Brixton Academy, London : 12.11.2002
It was only two years ago when Pink first emerged onto the music scene and was pigeon-holed into the same category as Britney Spears and Christina Aguilera. Unlike her rivals, what made her stick out was the fact that her first album - the R&B flavoured Can't Take Me Home - showed just what could be achieved by a true independent woman. Not only a sassy reply to the 'playas' but also a great example to her fans. What added to the album was the evidence of Pink's input; helping the listener to understand where she was coming from and just what it is was that she was getting at.
Tonight, Pink's audience covers all bases from rock and R&B, but they're still left uncertain whether Brit band Halo were a suitable opening act. The main event is a different matter though . . .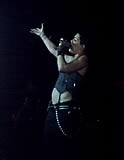 Backed by a band who begin by playing the introduction to early hit Most Girls, Pink bounces onto stage in full rock-chick mode and starts by delivering Get The Party Started from her second and most recent album Missundaztood.
Pink then goes through her loudest and catchiest tracks including 18 Wheeler, Missundaztood and Just Like a Pill. Pink also manages to pay tribute to 4 Non Blondes - former band member Linda Perry co-wrote and produced Missundaztood - by playing their hit What's Going On. Later on in the show another tribute is made, this time to Janis Joplin as Pink sings Summertime. As she continues through her set the crowd cheer her on with a variety of chants from "Boom!" to the usual cheers.
Throughout the night, Pink continues to underline her talent by performing different genres of music, along with sounding just as effective live as she does on CD. The show ends with Don't Let Me Get Me, leaving the crowd to await to her next tour of the UK.
:: Ben Lewis