Austin Powers In Goldmember


Mike Myers, Beyoncé Knowles
Michael Caine
Director : Jay Roach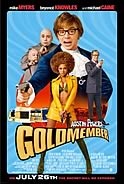 Despite what you may have read, Austin Powers In Goldmember isn't crap. Nor is it the defining work of a comic genius. The truth lies somewhere in-between.
All the familiar characters are back: Dr. Evil, Mini Me, Fat Bastard; plus some new additions: Michael Caine as Austin's father Nigel Powers, Destiny's Child's Beyoncé Knowles as ass-kicking 70s Powers girl Foxy Cleopatra, and Myers as Dutch disco king Goldmember.
All the familiar humour is back too: Scott trying to get a word in edgeways with Dr. Evil, Fat Bastard-related fart gags, and a whole raft of daft names to twist into double entendres.
Add in a huge number of surprise cameos (which you wouldn't thank me for spoiling for you) and there's not really an awful lot of space here for a plot. For the most part it doesn't matter; you're too wrapped up in the silliness to care. However, in between the numerous set-pieces, Goldmember does occasionally lose focus. The new characters don't have enough screen time to really make their mark, and you're left waiting for the next Evil or Powers segment to come along.
One thing that is obvious is that there are very few story threads from the first two movies that are left unresolved, which does suggest that Goldmember will be the last Austin Powers flick.
If you enjoyed International Man Of Mystery and The Spy Who Shagged Me, then you'd be daft to miss Goldmember. If you've yet to sample Mike Myers' spy spoof, do yourself a favour and start at the beginning. When you finally get around to watching Goldmember you'll get a lot more out of it.