Bringing Down The House


Steve Martin, Queen Latifah,
Eugene Levy, Jean Smart
Director : Adam Shankman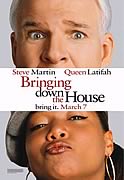 Steve Martin takes on the role of Peter Sanderson; an insipid, straight-laced and generally uninteresting attorney. Sanderson is also divorced, although he is oblivious to the reasoning behind his wife leaving him and still doesn't understand what he did wrong. Recently he has been using chat rooms to converse with a woman who goes by the alias Lawyer-Girl - real name Charlene, Queen Latifah - who claims to be a razor-sharp barrister.
Quite taken with Charlene, it's only when Sanderson invites her over for dinner that he discovers that she is actually a loud-mouthed, black convict who wants his help to clear her name of the robbery she didn't commit.
Peter is also trying to get a multi-million dollar client - Mrs Arness, played by Joan Plowright - to use their company for her case, and could do with nothing going wrong in his life. Cue a clash of cultures, a large splash of romance, some funny set pieces and a few laugh out loud moments.
If you want to see a film that is preposterously hilarious, this probably won't do it for you. However, there are still some effective comic moments that you may find yourself laughing at. In particular the scene in which Peter and Howie (Eugene Levy, better known to teens as 'Jims Dad' from American Pie) attempt to use Charlene's Afro-American lingo are very good. A mature white male uttering the words, "You got me straight-trippin' boo," was always going to work.
Offsetting the occasionally unoriginal scenes - how many films have you seen where someone puts laxative put in someone else's food or drink? - is this moment of genius: Near the film's end Steve Martin attempts to infiltrate a nightclub full of black people, dressed in a basketball vest and beanie hat, dishing out high-fives and trying to break dance.
Needless to say, the black versus white humour comes thick and fast, but is often unnecessary and overdone. All the way through the film there is the running theme of the white race being dominant over Charlene by poking fun at the fact that Africans were the slaves of white people for hundreds of years. In one scene she is made to wear a waitress's outfit to serve dinner to the rich old Mrs Arness. It may have seemed like a good idea on paper but looked tacky and just plain offensive on the big screen.
If you enjoy romantic comedies you will definitely enjoy Bringing Down The House, which has as much love as laughter, steering it away from an all-out comedy. The plot threads following Mrs Arness, Howie's love for Charlene and Sanderson's ex-wife keep the interest up for the rest of the film and tie in nicely together.
All in all a decent, light-hearted movie with a moral to the story and an extremely predictable ending. Entertaining, but hardly the funniest piece of cinema you will see this year.