Calendar Girls


Helen Mirren, Julie Walters
John Alderton, Linda Bassett
Director : Nigel Cole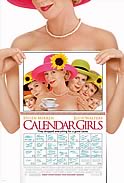 If you don't know the plot by now, where on earth have you been? Clearly nowhere near the idyllic dales of Yorkshire where not so long ago a group of quietly rebellious middle aged, middle class women decided to give the Women's Institute something of a revival.
Looking for a way to deal with the premature death of her husband to cancer, and raise money for the local hospital, Annie (Julie Walters) and her stalwart lifelong friend Chris (Helen Mirren) embark on the most revealing project ever undertaken by the WI, a 'nude' (definitely not 'naked' - there's a difference you know) calendar for charity.
The two dissidents of decorum set about conscripting the help of their (mostly) reluctant WI friends, and before we know it we're in Annie's kitchen watching an emancipated, if somewhat abashed Celia (Celia Imrie) concealing her modesty behind an extremely amusing composition of iced buns. Before long the calendar turns from local commotion to national sensation, and eventually international, transatlantic stardom, albeit short lived.
The price of fame is only hinted at in the film, as are many of the more major issues which the story raises concerning the impact of the sudden and unexpected celebrity status of these otherwise respectable, and fairly normal women. Despite this however, the film remains immensely pleasing from start to finish, and succeeds because it does simply what it sets out to do; tell the story of a few otherwise ordinary women doing something quite remarkable for a cause they genuinely believed in.
Comparisons with The Full Monty are inevitable, and for once, well founded. This is a solid British film with some excellent, moving performances which ranks alongside the likes of The Full Monty and Four Weddings And A Funeral, delivering all that's expected of it with warmth, humour and sensitivity. And for once it's refreshing to see that a British film can succeed without endless reference to the 'grim up north' working class stereotype which has dogged so many good post Full Monty films. The women in this film aren't struggling against oppressive social disadvantages, impoverished conditions, rife unemployment and a callous, ignorant government (unless you count the initially tyrannical rule of the national committee of the WI). They live in a beautiful villages in which the chief concerns of the day appear to revolve around cakes and jam, until you look a little deeper, and realise that they all face their own individual struggles.
Director Nigel Cole tries to steer our attention to the personal struggles of these women, without slipping into trite sentimentality. And for the most part he succeeds. Occasionally though you're left with the feeling that somehow the deeper issues of loss, betrayal, grief, and death are left untouched, glossed over and left, quietly awaiting the characters once the cameras have left. Oddly in a film in which the lead characters quite literally 'bare all' from the start, their characters remain strangely concealed, and we know little more about them at the end than we did at the start, when at least we knew what they looked like posing naked behind an apple press.
This may be due in part to the fact that all of the central characters who on whom the film is based are alive and well, and probably still dealing with some of the issues the film hints at. In that light it's easier to appreciate the simple drive to just tell the story, and not delve too deeply into the personal lives of these women. Walters and Mirren give sensitive and moving performances which do just that, and John Alderton is extremely poignant as Annie's husband, dealing with his own impending death.
The performances by the whole supporting cast were a delight and Tim Firth's script fits the women like a comfortable glove, and is littered with enough laughs to rival any British comedy as they reveal themselves in all their 'glory' and we endure countless, hysterically crafted cringe-worthy moments.
Despite loosing its way slightly on the American leg, this is a truly heartwarming and inspiring film in which not an awful lot happens, but helps to remind us that real life isn't a Hollywood script, and yet can still be every bit as engaging and rewarding.
:: Tom West