Jackass: The Movie


Johnny Knoxville, Bam Margera,
Chris Pontius, Steve-O
Director : Jeff Tremaine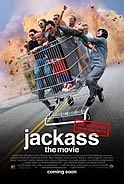 Nothing polarizes opinion quite like the lunacy of MTV's Jackass. You either love it or you hate it. Needless to say, I love it, and while I'll admit it's not big, and it's not clever; at its very best it can be one of the funniest things on TV.
So have I really been warming up for this movie with reruns of the TV show, CKY and Steve-O videos? You betcha . . .
As what is being billed as the final outing for the Jackass team - and with the promise of skits that were too close to the edge for TV - the expectation is for bigger and better Jackass than ever before. Well it's certainly bigger - incorporating a trip to Japan and some big budget destruction - but better is a different matter.
The skits that are on the same level as the TV show work; Johnny Knoxville and (un)willing accomplices experimenting with a muscle stimulator, Steve-O pole-vaulting into palm trees and Ryan Dunn BMX-ing into cacti are similarly stupid and work because of it.
Jackass: The Movie fails when they try to better former classics by throwing money at them. The Japan-based Night Pandas totally fails to upstage the series' Night Monkey sketches, and why wake up Phil Margera with fireworks when a sink plunger to the ear was so much funnier?
Despite not firing on all cylinders all the way through, Jackass: The Movie is worth going to see solely for Golf Course Air Horn and the resignation in the voice of Steve-O as he announces, "Hi, I'm Steve-O, and this is Alligator Tightrope." Even the one man usually totally devoid of common sense seems to realise that it's time to call it quits.
If you're expecting to see something that eclipses the TV show then you'll be disappointed. However, if you're expecting to see a well-earned payoff for three series of high-risk stupidity then this is the movie for you. If this really is the end; then Johnny, Bam, Chris, Steve-O, Ryan, Wee Man, Preston . . . in fact all of the Jackass crew past and present - we salute you.