The Man Who Sued God


Billy Connolly, Judy Davis,
Colin Friels, Wendy Hughes
Director : Mark Joffe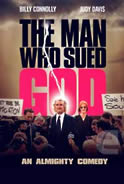 The Man Who Sued God presents itself in its undersized trailers as a rib-tickling comedy film, and who would query that when the leading man is none other than comedian Billy Connolly? Unfortunately the film lacks the laughs that were sold through the trailers and adverts, and instead becomes a semi-interesting court room drama that can has a few restrained gags along the line as well as some predictable romance for the Big Yin.
Connolly plays Steve Myers; a retired lawyer turned fisherman in search of $150,000 insurance money after his fishing boat was destroyed during a storm off the coast of his home in Australia. After meeting with insurance representatives he is told the money cannot be dispatched to him, due to the demolition of his boat being an 'act of God'. So frustrated Myers, along with the help of journalist Anna (Judy Davis) decides to take the matter to court where he fights a legal case against his insurance company and several religious figures; effectively God's defence team.
This film could do much better for itself. Primarily the idea of suing God is so overwhelmingly fresh that it could have placed a whole raft of humorous assets at the writer's disposal. It's not Connolly's fault; he fits impeccably into his role and seems more than comfortable as the prime choice to play a man who attempts to sue God.
Indeed, inside the courtroom the script is fast-paced, witty and also very interesting in terms of where God and the church should stand in a case so undeniably controversial. However, outside the courtroom the film trundles along, bereft of laugh-out-loud moments that you would expect from such a raw and fiery comic. The sub stories are also uninspiring and consequently take the action away from the court case and the quest for proof of the existence of God.
From the offset the audience is forced to side with Myers as he presents the insurance company (lead by an aptly named Mr Piggott, played by John Howard) as a bunch of greedy, money-obsessed animals. A more even battle with less empathy for Connolly's character would have enhanced the movie to a great extent. Who to support? An eccentric madman suing the Lord or the institutional alliance of the insurance company and the church?
With more emphasis on Connolly's unpredictable humour, this could have been the surprise low-budget hit that it isn't. It's not all bad but I would at least wait until it finds its real home in the blue-fronted rental haven that is Blockbuster Video before you see it.