Under The Tuscan Sun


Diane Lane, Sandra Oh, Lindsay Duncan
Raoul Bova, Vincent Riotta
Director : Audrey Wells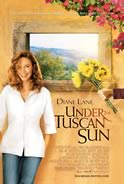 In the film adaptation of Frances Mayes' best-selling memoir Under the Tuscan Sun, the very talented Diane Lane stars as a recently divorced writer and literary critic, who starts over and rediscovers herself in Italy.
When Frances' best friend Patti gives her a ticket to Tuscany, she is a bit reluctant. Patti, portrayed by the very funny Sandra Oh, plays the voice of reason. She insists it is a chance for Frances to take a break from life. In Tuscany, Frances immediately finds a new love - not a man, but a rundown villa, which she purchases on the spur of the moment. The beautiful landscape, which plays as much a role in the movie as any of the actors do, seems to promise a brand new life and of course, love.
As Frances soon realizes, romance and a new life take as much sweat, hard work, and rebuilding as the neglected house. After some time in the majestic beauty of Tuscany, Frances wishes for the obvious; love, family, weddings, babies, etc. And while we hope for all those things too, we are pleasantly surprised that they are not planted in front of her, saving the movie from falling into the charted pattern of a 'chick flick'.
As Frances' new home, cooking abilities, and handyman skills improve, so does Diane Lane's performance. Through the unfolding events, predictable or not, Lane deftly shows the emotion, innocence, maturity, and radiance that make all her appearances on the movie screen so magical.
Eventually the viewers do get their happy ending, but it somehow cheapens all that Frances has endured. We see wonderful things happen to the people around her, but that we only get a glimpse into all that Frances has accomplished during the last minute of the film leaves us hungry. It would have been enjoyable to experience more of the journey with her, making her well-deserved happy ending more satisfying.
:: Adela Brito