Limbo II: The Final Chapter


Andy Secombe
Tor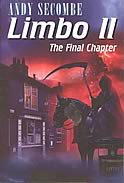 Magically shifting castles, documentary making aliens, cross-dressing geneticists, The Four Horsemen Of The Apocalypse, a troupe of slightly tipsy orris dancers and a small newsagents in Lancing . . . sounded to me like all the right ingredients for a chaotic comic fantasy . . . unfortunately, it wasn't.
The main problem with the Limbo II: The Final Chapter is it isn't actually funny. Amusing, yes. An adventurous romp, yes. But when entering into a genre with giants such as Pratchett, Rankin and Holt, the inability to produce laugh out loud moments is a major stumbling block - which is a shame because the book in itself is good. Well structured, it weaves threads of sci-fi and fantasy, with Secombe ditching a cluttered, rambling style for a clean, clear prose, which moves the plot along at a steady pace. The one area Secombe does match his competitors in is inventiveness; putting a new spin on traditional fantasy ideas of prophecies, wizards and the like, producing an intriguing, if not hilarious yarn.
The yarn in question is a continuation of Limbo, Secombe's debut novel, revolves around Rex Boggs, wizard of the kingdom Of Limbo. His adoptive parents, the former patrons of Lancing Newsagents are the King and Queen, living peacefully until a yearning to be useful prompts Queen Iris to return to the shop part-time, only to be - as is the risk in the newsagent trade - abducted by The Four Horsemen Of The Apocalypse.
Meanwhile, on the Great Barrier Reef, budding geneticist Nilbert Plymstock's noble experiments in aid of the local coral end up producing a biological supercomputer, and outside a Devonshire pub a documentary-making alien arrives with a message to save mankind - only to be dragged away to the local police station by a staggering troupe of drunken morris dancers. So it's up to Rex, in true heroic fashion, to save the world(s) again, and somehow prevent the legacy of his father - a terrible, universe unsettling prophecy - coming to pass.
Perhaps, I'm being a bit harsh on Andy Secombe's second attempt at literary success. It does show considerable improvement from its predecessor in both form and in more rounded, believable characters, so if Secombe can focus his comic eye on a third outing - although the subtitle of this chapter suggests this is unlikely - he may well be onto something with his alter-world.
However, for the present it leaves me to say that Limbo II: The Final Chapter is fun and adventurous, but there are other genre authors out on the shelves packing more of a comic punch I'm afraid, leaving Andy Secombe's second novel, well and truly, in Limbo.
:: Jamie Larkin