Placebo: Soulmates Never Die
- Live In Paris 2003
Virgin Records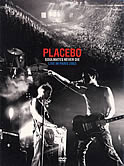 Placebo have boasted some stunning live performances over the years, and one of the most impressive shows I've seen recently was their set on the main stage at the V2001 Festival. This DVD captures their remarkable concert in Paris on 18th October 2003 in front of an eager and expectant crowd who weren't left disappointed. It's been a long wait for anybody who has seen Placebo live and wanted to have it on replay.
They kick-off the performance with Bulletproof, the gritty and spirited opening to their most recent album, Sleeping With Ghosts. The album version acts as a lively introduction, and the live performance operates as an unadulterated opportunity for both crowd and band to unleash some energy, and sets the standard for the rest of the gig. With everyone warmed up to the 36 degrees plus mark, Molko and his faithful crew launch into an uncompromising adaptation of Allergic.
The gig spans Placebo's career - it's not just an opportunity to promote their latest album or a chance to road-test new songs, it's a celebration of their work so far; from the early beginnings of their self titled album to the grunge-laden Without You I'm Nothing and the haunting Black Market Music. It's a treat to see an established band perform a song from their debut album, like Radiohead performing Creep or the Foo Fighters performing This Is A Call. In a similar vein, Bionic is worth its weight in gold; the same style and charisma of the youthful album version but laced with Molko's measured approach to the performance - this is clearly a band who've evolved.
This evolution is also apparent in Peeping Tom and I'll Be Yours, both of which are much darker and sinister then the original version. However, despite these introspective moments, the highlights have to lie in their fiercer roots; the drive of Plasticine and the raw force of Every You Every Me show Placebo in their best light, whilst the buoyant tones of Pure Morning and Taste In Men illustrate their more innovative sound and keep the audience on their toes.
There's a great finale with Where Is My Mind?, but unfortunately the back cover gives the special guest performance away so the element of surprise is lost. Nevertheless, a great close.
If nothing else, Soulmates Never Die adds a visual element to Molko's lyrical landscaping, giving a different perspective to the Placebo experience. Seeing Stefan Odsal's adrenalin filtering into the Parisian air and Brian Molko's emotionally charged stage presence will make you feel differently about Placebo, whatever you thought of them previously. Go on, you know you want to . . .
:: Paul Newbold