The Dickies:
An Evening With The Dickies
Secret Films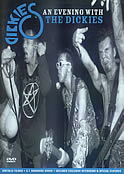 Some things just don't add up. 70s British punk was politically motivated, and instigated by a musical climate that was in prog rock freefall. Whilst New York had already produced the Ramones, the New York Dolls and a whole host of bands that would later be hailed as punk godfathers, it was an insular community until Blondie managed to turn the talent into record sales. Both scenes are rightfully considered to be pivotal, but their musical influence on the upbeat pop-tinged punk of the last ten years isn't particularly obvious.
There's a reason for that: The Dickies. A bunch of Californians who took the template laid down by The Sex Pistols, The Damned and the Ramones and fused it with their love of pop music. The result was a string of hit singles of both sides of the Atlantic, including the multi-coloured vinyl high-speed cover versions that were the staple of The Dickies' early career. You can hear the sound of The Dickies in The Descendents, The Vandals, NOFX . . . and the 99% of the US punk scene that they in turn have influenced.
Why then, are this band never given their due? NOFX's Fat Mike and The Offspring's Dexter Holland have championed their cause on occasion, but it seems that The Dickies are forever going to be a footnote in punk history.
The best way to discover The Dickies is through their debut album The Incredible Shrinking Dickies, or by trying to pick up some of their early singles second hand.
Failing that, there's An Evening With The Dickies, a DVD of a 2002 show from Portsmouth's Wedgewood Rooms. The set-list is a good cross-section of the band's career, and while there's no Sounds Of Silence or the wonderfully titled (I'm Stuck In A Pagoda With) Tricia Toyota; Nights In White Satin, Banana Splits, Paranoid, You Drive Me Ape, She's A Hunchback and many more Dickies greats are aired.
In addition to the show there's an interview with founder members Stan Lee and Leonard Graves Phillips, a written biography and a hidden tour documentary. Buy this for the music though - music from the greatest American punk band you've never heard of.