U.K. Subs: Warhead
- 25th Anniversary Marquee Concert
Secret Films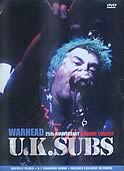 As the title of this DVD suggests, it features a live concert from the U.K. Subs, a British punk band who, as the title also suggests, have been together in one form or another for over 25 years. The DVD contains a text biography, an interview with the band, a set-list for the concert, and the concert itself which was recorded at The Marquee in London in 2002.
The interview sees the band discussing their considerable set-list, giving an insight into how and when the songs were written and what the inspiration behind them was. The band come across as a very literate bunch, and some of the stories about their back-catalogue are quite interesting, though the interview as a whole does tend to drag somewhat.
The biography reads more like a manifesto. It explains that, despite achieving minor chart-success in the late 70s, the main elements driving the U.K. Subs onwards have always been "fire and anger," something they feel to be distinctly lacking in today's "limp modern world of photogenic, manufactured pop karaoke artists." They're not wrong. They must have wanted to puke blood when they saw Lydon on I'm a Celebrity, Get Me Out of Here! - that's assuming these punks even own propaganda-spewing image-boxes.
The live performance shows that they don't merely talk the talk. Despite the rather archetypal punk gig start - "Just cause I fucked your fucking mama - no need to fucking get violent" declares lead-singer Charlie Harper after a bottle of water bounces off of his chest - this is more than just a spit-at-me-while-I-shout affair. Whilst it is clear that this is more a revival than a new chapter for the U.K. Subs, and that their ferocity has become a tad blunted over the years, the band's genuine punk ethos really shines through and the tightness with which they deliver their set is a testament to the amount of time they have been together.
There are good songs here as well; New York State Police, Tomorrow's Girls and Limo Life all worthy of note. The well-delivered songs and the unfaltering energy the band bring to their performance make for a hugely enjoyable spectacle - all in all, a cracking show.
Punk might be dying, but it is certainly not dead. Long live the U.K. Subs . . .