Sugarcult : Tim Pagnotta


Not bouncing off the walls again
Jump to page: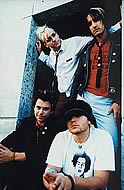 Having toured with the likes of Rancid, Less Than Jake and Jimmy Eat World, and having shifted over half a million copies of debut CD Start Static, Sugarcult's UK tour with Good Charlotte is the latest chapter in a rapidly escalating career. The band combine sugary pop melodies with a punky undercurrent. Frontman Tim Pagnotta prefers the term power pop, but they probably get called pop-punk more than they'd like.
I've got an alterior motive for wanting to speak to Tim. I really like Sugarcult's music, but I understand that on the surface it sounds a little too close to the likes of Busted for comfort - a band who I have absolutely no time for. Are Sugarcult just as superficial, or is there something more substantial under the candy coating?
counterculture: You're out on tour supporting Start Static . . . still. You've had this album out two years in the States and it came out here earlier in the year. Are you not getting sick of these songs yet?
Tim Pagnotta: Um, absolutely . . . getting sick of these songs!
cc: Is it like Groundhog Day every time you turn up on stage?
TP: Yeah, we're the only band that can shoot laser beams out of our eyes at each other at a moment's notice because we're so tense playing these songs. We're so in the moment. Y'know, it's kinda one of those things when sometimes you hear a song one million times in a row it can be the last song you want to hear, but then sometimes when the show goes great you wanna turn a three minute song into a twenty minute jam, because it's like, 'Fuck, I don't want the end!' . . . and thats when you just start going into Steppenwolf covers.
cc: Sounds good. You doing one tonight [tongue in cheek]?
TP: Steppenwolf? [from the background: "Magic Carpet Ride!"] Maybe Molly Hatchet!
cc: Any news on the next record? You've been promising it for some time . . .
TP: I don't know. Y'know, it depends whenever the record label decide to put their minds together and put it out.
cc: So it's been in the can for a while then?
TP: No, we just finished it two days ago, got finished mastering two days ago.
cc: And are you playing some new songs tonight?
TP: Yeah; Memory, Crying . . . maybe She's The Blade, maybe What You Say.
cc: So what's the new record like? The old one was like . . . the earnest baladeering of Dashboard Confessional crossed with The Knack - your bouncy songs . . .

TP: That's awesome! Well I'd prefer more on The Knack side of the railroad tracks, cause I've a weakness for pop, 80s and skinny ties. I think the new records is . . . well for one; we have a new drummer. His name is Kenny Livingston - this guy right there [gestures to Kenny] - aka The Bruiser. And he's an amazing musician. Our last drummer . . . well let's just talk about Kenny! Kenny's an amazing musician - hits the drums really fucking hard like he's in a fight. And to me, I think songs are lead by the vocal melody and the drums. And I think he's the best drummer around.
So to me, it was a huge difference in the writing process, cause now, y'know, I wrote these songs on an acoustic, thinking they were going to be electric. And then you can take 'em two different avenues: You can play them with an average drummer, or you can play them with a kick-ass musician. I think that what's changed in the songwriting is that there's a lot more attitude - in the sound, in the song itself - in the lyrics it's a much more vulnerable album.
And it's also a records that's come from a band that's toured for two years and I feel that I know who our audience is . . . and I think that some bands who maybe don't tour as much aren't really focussed . . . sometimes they have an identity issue, where they feel like they can put out any fuckin' record and people will like them. We are a band that likes to tour. We make records to tour, and I think we make records that reflect what our fans want and like. That's not to say that we're controlled by our fans, because that's just not the case, but I think we made a record that the fans are gonna like.
cc: What other bands do you think your fans like?
TP: I think our fans like bands like Green Day, the Foo Fighters and Jimmy Eat World . . . I think we're kind of a band like that.
cc: You're signed to Epitaph, at least in Europe - a label with a rich punk history. Have you felt any 'punk pressure' from the Epitaph crowd?
TP: Other than a couple of death threats on their message board . . .
cc: A lot of the label's fans seem to be . . . 'gotta be punk', 'gotta be punk', and don't seem at all open to anything poppy. And you guys are very, very poppy.

TP: You know, that's true, but I think all people change. I don't know anyone that listens to just punk music, just like I don't know anyone that eats [just] vanilla ice cream. If all you listen to is just one thing . . . then I'm not really interested in catering to that crowd. I like diverse people, and I'd like to think of our fans as being diverse. These days you can be on a pop label and turn out a pop record and people'll say it's not poppy enough. I think we've sold enough records and played enough shows that we're pretty confident to stay the way we are.
I would say that on our last record we had songs like Pretty Girl and Hate Every Beautiful Day; and they're a little bit more melancholy, there's songs that are in minor keys. And there's like four songs on the last record - which is almost 50 percent of the last record - that was a little bit more moody. I think that the new record is a very big growth for the band, because it shows that side of our band, but not in a way that's a bummer. Not in a way that's like 'oh God, they put a depressing record out'. No, y'know, we didn't. The record's hard-hitting and direct, but I think that the new record displays a big growth for our band.