Stuck On You


Matt Damon, Greg Kinnear
Cher, Eve Mendes, Seymour Cassel
Directors : Bobby Farrelly, Peter Farrelly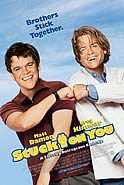 Come on Pete, there must be something. I'm telling you Bob, we've done it all - schizophrenia, disability, obesity, midgets, heck we've even done having a tail. What about incest? Nope, we've done that. Amputees? At least twice now Bob. Jeez - what about conjoined twins? Um, well . . . you know what Bob, I think you might be on to something!
So was born the latest offering from the infamous Farrelly Brothers, the kings of bad taste comedy. Stuck On You follows the ups and downs of Bob (Damon) and Walt (Kinnear), twin brothers who are relatively happy with the life they've made for themselves, despite the fact that they have grown up conjoined at the waist and sharing a liver. Though Bob is quite content to stay in Martha's Vineyard where he and Walt run the local Quikee Burger, Walt has a passion for acting, and has his sights set on going to Hollywood. After convincing Bob that they should leave home for LA - not least of all because Bob's internet sweetheart lives there - Walt sets about trying to become a star.
Matt Damon and Greg Kinnear both give solid turns as the afflicted brothers, both playing it reasonably straight to balance out the absurdity of the situations they find themselves in. Eva Mendes is great as the tart-with-a-heart Cali girl, and Meryl Streep pops up in a cameo as herself, as does Cher who sends herself up a treat as a fame hungry ice maiden.
Though largely completely stupid, as has come to be expected from the Brothers Farrelly, Stuck On You is actually full of heart and comes off being quite charming. Though the token ridiculous and, some would say, utterly tasteless premise is in place, it is a rule adhered to by the Farrellys that, ultimately, the afflicted parties always end up having the last laugh. In a sense though, this is the biggest drawback to Stuck On You. The kind of person who is likely to take offence at a Farrelly Brothers film is the kind of person who is unlikely to watch one at all, and the kind of person who loves the Farrelly brand of gutter humour loves it for the very fact that it makes some people wince and think, 'no, they did not just show that!' Stuck On You seems to be caught somewhere in between gross-out idiocy and warm-hearted underdog tale, and the result is a film that feels more blunted than previous offerings.
Having said that, Stuck On You is a surprisingly enjoyable and somewhat uplifting experience, with one or two genuinely clever and acerbic belly laughs. It isn't exactly a life changing experience, but it doesn't try to set itself up as being one either, and its heart is in the right place. Just not its liver . . .