Wondrous Oblivion


Sam Smith, Delroy Lindo,
Emily Woof, Stanley Townsend
Director : Paul Morrison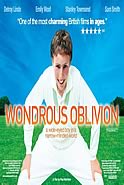 A wide-eyed boy in a narrow minded world. So reads one of this new British film's taglines, and it is a useful but short description of a story that takes in racism, prejudice, friendship and cricket!
It's the story of a young Jewish boy David (Sam Smith), who is mad on cricket but rubbish at it, and who desperately wants to play for his school team and gain the respect of his classmates, who regularly mock his hopeless efforts. An unlikely saviour comes in the form of new neighbour Dennis (Delroy Lindo), who takes the boy under his wing and coaches him onto success.
What seems like a simple story at first is made all the richer for what is going on around David, who exists in a state of 'wondrous oblivion' according to his teacher. David's parents, Ruth and Victor, are Jewish immigrants living in relative peace in early 1960s south east London, but when their Jewish friends and neighbours move out and a new Caribbean family moves in, life takes an expected twist. The rest of the street wanted another Jewish family to move in, and animosity soon grows towards these black 'invaders', which David and Ruth get caught up in.
The drama unfolds as David defies his dad's request to not mix with the new arrivals, and climbs over the garden fence soon after Dennis digs up the roses and installs a cricket practice net in their place. David becomes good friends with Dennis and his daughter Judy as they train him in the fine art of the bat and ball. But tragedy is around the corner as David and Judy fall out and the neighbours plan bad things for Dennis' family.
At first glance you may see the similarities to two other recent British films in Wondrous Oblivion, and yes, it does come across like 'Bend It Like Anita And Me'. But this criticism aside, Wondrous Oblivion is a wonderful ensemble piece with the always excellent Delroy Lindo in his first British film. He took the job as he loved the script and also because he grew up in Lewisham, south east London, and identified with Dennis' character and struggles.
Sam Smith as David is also a real find, managing to remain childlike enough to charm us but stopping short of the precociousness that makes us want to clobber many child actors (you know who they are).
Emily Woof as David's mum Ruth and Leonie Elliott as Dennis' daughter Judy both breathe life into their characters, and the supporting cast as a whole is outstanding.
The set pieces are impressive: David and Judy practicing cricket in Dennis' net all speeded up to music, Ruth and David dancing to dancehall reggae at Dennis' Caribbean club, and the attack on Dennis' family are all things that hook the audience and keep them interested in this charming, funny and intelligent story.
It's a little twee towards the end, but overall Wondrous Oblivion is a great British film that is not from the makers of Four Weddings And A Funeral or The Full Monty. For that we should be thankful and support it all the more.Howzaat!